Interview with Dr. Jena Ogston of the College of St. Scholastica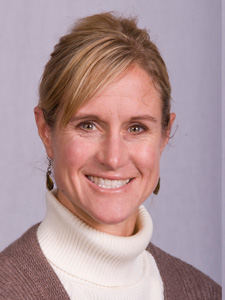 Dr. Jena Ogston obtained her Masters of Physical Therapy degree from Mayo School of Health Related Sciences in 1996 and her PhD in Rehabilitation Sciences in 2004 from the University of Minnesota. Throughout her clinical career, she worked in sports medicine with various opportunities volunteering and traveling around the world with the US Nordic Ski team. Since starting in full-time academia at the College of St. Scholastica in 2002, she has developed her research agenda focusing on community clinical outcomes and recently delving into foot and ankle biomechanics in the Health Science Sensorimotor lab. She has been a recipient of community awards and was inducted into the Advanced Academy of Item Writers by FSBPT. Her teaching expertise resides in Biomechanics, Orthopedics and Evidence Based Practice. She is currently Program Director of the transitional DPT program that serves physical therapists nationally and internationally.
Note: You should consult with your doctor or physical therapist for recommendations on treatment. The views and opinions expressed in this article are those of Dr. Ogston and do not necessarily reflect the official policy or position of OnlinePhysicalTherapyPrograms.com
A lot of your recent research focuses on foot/ankle biomechanics. How did you become interested in this area of the field?
When I working as a full-time clinician, I was inspired initially through a course entitled, "When the Foot hits the Ground, Everything Changes". The course integrated movement biomechanics which really inspired me to look further into how the foot and ankle can change lower extremity biomechanics. Initially, I found great success in my patients with applying biomechanical knowledge to their rehabilitation, but then found there were so many remaining questions. I enjoy the complexity of this area and the challenge to understand, research and teach about the foot.
What are some of the most important things we have learned in this area in the past couple of decades?
Most recently, emerging research reveals that the foot and ankle may play more of an integral role in numerous functional lower extremity activities. There are 26 bones in the foot alone that work together to adapt to varying surfaces, provide shock absorption and propulse the lower extremity. The foot and ankle work together as a dynamic pair that is far from simple to understand.
You have researched the difference in in-shoe plantar loading forces among various shoes. What have you learned and what should people consider when they are purchasing a shoe?
Despite the various conclusions derived from researchers, the bottom line is that there isn't one right shoe for everyone. Physical therapists should be aware of the multiple types of footwear that are available and their impacts on gait and other sport and recreational activities. Furthermore, we should be more proactive in prevention foot pathologies recommending discontinuance within prolonged use of certain forms of footwear and strengthening our feet.
What are some of the challenges to getting people with foot issues and injuries the PT treatment they need?
In my opinion, our community doesn't recognize the knowledge and skills that physical therapists possess in the prevention and treatment of foot pathologies. Oftentimes patients reach for surgery without attempting conservative measures and/or are not seeking treatment following surgery, which could lead to life-long impairments.
How do you select new research projects in the Sensorimotor Lab?
Through currency with foot/ankle literature, we recognize what areas are lacking sound scientific support and attempt to answer some of those questions. Many of my projects involve students, so the research also needs to be "feasible" to adapt to their semester schedules. Our lab at CSS offers such a diverse set of data acquisition and processing, so there aren't too many basic research questions related to human movement that we cannot engage in. The PT program research is led by numerous faculty in which nearly half of them are currently working in our lab conducting research contributing to a body of knowledge regarding the human movement system.
What aspect of your work are you most proud of?
I chose St. Scholastica as its values and teaching focus fit with my passion of being an educator. There are vast rewards in clinical work, but also found in the educational arena. There are numerous aspects of my job that are absolutely invigorating, but teaching is my passion. Of course, this is not limited to the classroom as I often times speak at conferences, CEU courses and in our online tDPT program.
Is there any advice you have for those considering a career in physical therapy?
Be prepared to work hard and love every day of your job. Acceptance into physical therapy school is not a small feat, so work on developing a thorough application that consists of good grades, GRE scores and engagement in a wide variety of volunteer and shadowing experiences. Ensure that you possess a strong desire to help people and make a difference in their lives as that is the heart and core of physical therapy.