Interview With Dr. Liang-Ching Tsai of Georgia State University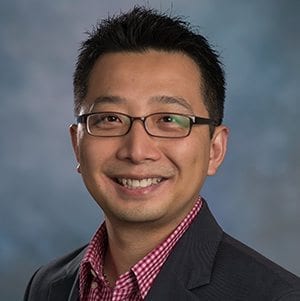 Dr. Liang-Ching Tsai is an Assistant Professor in the Department of Physical Therapy at Georgia State University dedicated to advancing the research in Physical Therapy with an ultimate goal of better understanding biomechanical injury mechanisms and developing effective interventions to prevent and treat lower extremity injuries. Dr. Tsai completed his training in Physical Therapy from National Taiwan University. He then pursued his M.S. training in Human Movement Science at the University of North Carolina at Chapel Hill and received his Ph.D. degree in Biokinesiology from the University of Southern California. Before joining Georgia State University, Dr. Tsai was a post-doctoral fellow at the Rehabilitation Institute of Chicago and Northwestern University where he focused on robotic rehabilitation. In addition to his passion for research and teaching in Biomechanics, Dr. Tsai enjoys travel and movies and is a fanatic Tar Heels fan.
Note: You should consult with your doctor or physical therapist for recommendations on treatment. The views and opinions expressed in this article are those of Dr. Tsai and do not necessarily reflect the official policy or position of OnlinePhysicalTherapyPrograms.com
How did you become interested in biomechanical injury mechanisms?
I enjoy playing sports. While I was in college receiving my training in Physical Therapy from National Taiwan University, I was curious about why some of the athletes got injured. This motivated me to pursue more knowledge in biomechanics and to study human movements.
What are some of the most important things we have learned in this area in recent years?
There have been many exciting findings in the field of biomechanics. Overall, we have gained better knowledge in identifying the potential mechanism(s) related to musculoskeletal injuries. We have learned about the pathological movements following injuries and how they might affect patient outcomes. These new discoveries have allowed us to develop effective injury prevention programs and optimize our rehabilitative approaches.
How can technology help further our understanding of these mechanisms?
Biomechanical assessment has evolved from traditional laboratory motion/video analysis to a combination of approaches that incorporate imaging, computational modeling, virtual reality, robotics, and/or portable inertial sensors. These technologies allow better individual characterizations, real time monitoring, outcome predictions, and outdoor field testing.
What are some of the challenges to preventing further injury in patients with ligament or other reconstruction?
Every individual is unique so there is a limit of the generalizability of research findings. Despite the advancement in biomechanical research, injury mechanism is likely multifactorial and we haven't fully identified and examined the risk factors. Also, developing the optimal intervention(s) to mitigate the influence of each risk factor is still underway.
How do you choose new research topics?
By studying the literature and discussion with clinicians in terms of the challenges they are facing, you can identify the areas that require better understanding through research.
What aspect of your research are you most proud of?
I am still in the process of gaining more research skills and experiences and hopefully can make a bigger contribution to our fields. My main contribution at this early stage of my career is to adding to the understanding of how altered joint kinematics/kinetics and muscular actions together may contribute to lower extremity injury. A multidisciplinary approach is essential in biomedical research dealing with complex health care problems. I have thus taken part in biomechanical and bioengineering research projects that have allowed me to bridge the gap between engineering science and medicine to better understand the long-term outcomes of rehabilitation in patients following musculoskeletal injuries of the lower extremities.
Do you have any advice for those starting a doctorate in physical therapy program?
Completing a DPT or PhD degree related to PT is not an easy task and it takes perseverance, hard work, time management, and most importantly passion toward the goal you are pursuing. Besides dedicating their best effort and finding balance between school work and life, I would also encourage them to develop independent and critical thinking skills through this process rather than simply following the textbooks or others' ideas and opinions.