Interview with Dr. Jo of Ask Doctor Jo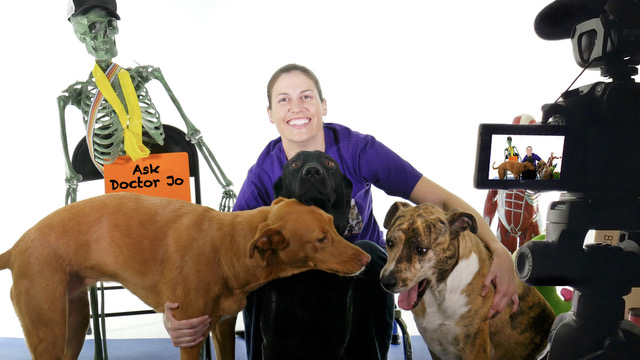 Doctor Jo is a licensed physical therapist and a doctor of physical therapy. She graduated from the University of South Carolina Doctor of Physical Therapy program. Dr. Jo has worked in many different settings including: outpatient hospital-based rehab, acute care, inpatient rehab, outpatient sports medicine, and aquatic therapy. She has worked with a wide variety of patients ranging in ages from 1 to 92, including NFL athletes and great-great-grandmothers. Dr. Jo also runs the popular "Ask Doctor Jo" YouTube channel and website, where she exposes as many people as possible to the benefits of physical therapy, especially those who don't have access to adequate healthcare. Ask Doctor Jo has hundreds of thousands of subscribers on YouTube, Facebook, and other social media channels.
Note: You should consult with your doctor or physical therapist for recommendations on treatment. The views and opinions expressed in this article are those of Dr. Jo and do not necessarily reflect the official policy or position of OnlinePhysicalTherapyPrograms.com
What inspired you to start Ask Dr. Jo?
The reason I started Ask Doctor Jo is to continue to help people as much as I can. More and more often, healthcare professionals, especially in the therapy field, are getting road blocked by insurance caps, limited visits, and very high co-pays for patients. Sometimes there is just not enough time to give all the instruction a patient truly needs. My YouTube channel and website are not designed to make people stop going to their doctor or therapist or to replace information they have given them, it's just to help them along the way. Nothing beats a professional PT instructing you in person where they can make sure you are doing things correctly.
How did you become interested in physical therapy?
Physical Therapy was not my first career. During undergrad, I played soccer, and to make me more injury prone, I was a goalkeeper! I had many injuries throughout my soccer career, and I had PT several different times. Some of it was really good, and some of it was really bad. So I always had the thought of becoming a PT in the back of my mind. After several years of working at a desk and in an office with no windows, I decided it was time to give this PT thing another look. So I headed off to USC and never looked back!
What do you hope your readers get out of the information you share with them?
As mentioned above, my YouTube channel and website are not meant as a replacement for in person healthcare. It's really a guide to help people along the way. Often, you might kind of remember what you did in physical therapy, but need a refresher. That's where my videos and blog come in. I am also aware that some people don't have insurance or access to adequate healthcare. This is to help guide those folks as well.
You have some great videos demonstrating proper form for various PT exercises- what inspired you to start sharing these?
It was actually my business partner, Brian (who often makes cameos in my videos), who encouraged me to start making videos. He said he had been looking at some videos, and he thought the quality of the videos and the demonstrations could be much better to help people. So we tried making a few, and people really seemed to enjoy my light-hearted and slightly silly style…and also the pups. Everyone loves the pups!!
You often talk about various modalities on your blog, particularly TENS. Are there any other modalities that PTs should be integrating into their practice more often than they do?
Definitely. I have some videos for other electrical stimulation like interferential current (IFC) and Russian current. I also talk about ultrasound (US), and even infrared light therapy. I also really like vasocompression, but I haven't had the opportunity to feature it in one of my videos yet.
When should patients consider purchasing a TENS unit?
I actually just released a book all about TENS and EMS units. From beginners to more advanced users, this book has solutions for everyone. It shows you how TENS and electrical muscle stimulation (EMS) units can be a safe, noninvasive, user-friendly, and inexpensive way to help treat chronic and acute pain. In addition to showing you how to use a TENS/EMS unit and how to properly place the electrodes, it includes some simple stretches and exercises (with color photos) that can be done in conjunction with the TENS unit to get the best possible results long-term. Find out more about my book.
Do you have any advice for PT students?
I actually recently made a video about that! I talk about the pros and cons of being a physical therapist.