Interview with Breanna Spain of Breanna Spain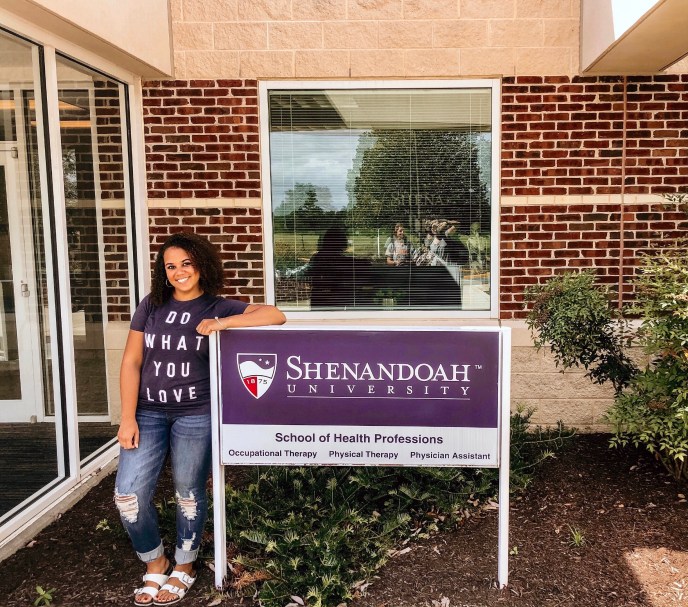 Breanna Spain is a second-year physical therapy student at Shenandoah University in Winchester, Virginia. She graduated from Virginia Commonwealth University (Richmond, VA) in May of 2016 with a Bachelor of Science Degree in Health, Physical Education, and Exercise Science. After graduating, she worked as a physical therapy technician for a year with the majority of her clinical experiences/exposure taking place in outpatient settings. However, she did spend some time in inpatient acute care and rehabilitation settings as well. Her biggest interest right now is neurologic physical therapy, but she is eager to complete all of her clinical experiences in each different setting and discover where she will truly be able to thrive. She falls in love with physical therapy more and more every day and cannot wait to spend the rest of her life helping others improve not only their physical function and independence, but their overall longevity and quality of life. In her spare time, she loves being adventurous and spending time outdoors. She grew up in Virginia Beach, so she loves hanging out at the beach with family and friends and playing beach volleyball. Volleyball has always been a huge part of her life. Although she does not play competitively anymore, she dedicates a great deal of time to officiating high school, collegiate, and Junior Olympic volleyball and gets to travel to so many awesome places along the way. She also loves the days where she just gets to hang out at home, watch Netflix, eat ice cream, and cuddle with her three-year-old Golden Retriever Dawson!
Note: You should consult with your doctor or physical therapist for recommendations on treatment. The views and opinions expressed in this article are those of Breanna Spain and do not necessarily reflect the official policy or position of OnlinePhysicalTherapyPrograms.com
What inspired you to study physical therapy and start your blog?
Being a volleyball athlete for several years exposed me to the wonderful and fascinating world of physical therapy, and I knew that I wanted to one day follow in the footsteps of such amazing individuals. I want to wake up each and every day and have the chance to make a valuable difference in someone's quality of life. Through my personal experiences with physical therapy as a patient and the experiences I've been a part of as an intern, tech, volunteer, and student in the clinic, I have gotten to witness firsthand how physical therapists make magic happen every day. I want to touch as many lives as possible and make it clear to my patients that there is always hope; that giving up is not an option; that recovery will happen – even if it is only a little bit; that there is a life filled with new opportunities and growth that awaits them. I started my blog back in 2015. At that time, my blog did not include any PT school related content. My original intent for my blog was to mainly share recipes and photography. For me, applying to PT school was a pretty stressful process. There are a lot of moving parts that must be squared away during the application process including transcripts, references, observation hours, essays, the GRE, and more. After completing the application process and being accepted into my program, I knew that I wanted to start incorporating content into my blog that could help and inform others who had similar aspirations. I thought, "What better way to start including PT school information on my blog than sharing my application experience and everything people should know before, during, and after applying?!" This is where it all started. Since then, I have shared posts that include tips/advice, drawings and resources for classes, details about my clinical experiences, how I stay organized, what it is like to have a dog while in school, and more. Some of my posts have been inspired by personal requests from my readers, while others simply include experiences, advice, or information that I want to share with others that I think can be valuable for them.
What do you hope your readers get out of the information you share with them?
I hope that readers find my blog to be an authentic place that provides genuine, relatable information that they can connect with and benefit from. I share about the good, the bad, and everything in-between. I encourage my readers to share their thoughts and experiences and am always open to answering questions. I put lots of heart, thought, and meaning into each post and hope that what I share accentuates my passion for physical therapy and helping others.
What are the most challenging aspects about PT school to write about?
The most challenging aspects about PT school to write about are the rough times. It's always fun to get to share the great, successful experiences of PT school, but not so fun when it comes to the difficulties and failures. I took a leap of faith and vulnerability when I shared about my experience after my first semester of PT school. I was dismissed from my program on account of not passing a class (sadly by just one point). I had to petition to be readmitted into my program and started again in the subsequent fall semester with the new, incoming class. My first semester of school was really, really tough. There were a lot of external factors and personal struggles that were affecting my performance in school and overall mental health. People appreciate honesty and transparency. Being so open about my life and experiences has really helped me to connect with my readers in such a meaningful way. I'd like to think that I helped bring light to the fact that PT school is very challenging and not all of us can get through it without facing some sort of struggles, difficulties, and/or setbacks along the way. A common belief I've helped instill in others that have experienced similar situations is that with perseverance and positivity, we can overcome the hard times and view these experiences as blessings in disguise that helped mold us into better, stronger clinicians.
Where did you go for advice when you were applying to/starting PT school?
When I was applying to PT school, I mainly sought advice from the APTA website, PTCAS website, and a physical therapist at the clinic I was working at during that time. The application process took place for me while I was working as a tech in an outpatient clinic during my "gap year." I was also volunteering at an inpatient rehabilitation hospital during this time. Ironically enough, the physical therapist I was volunteering with here had a previous student complete a clinical experience with them who was a third-year student at Shenandoah University – my program of study. I reached out to her about the interview process and she provided me with a lot of great information and helpful tips. My advice for others is to network, network, network! The physical therapy world is so big, yet so small at the same time. There are so many great connections that can be made if you just put yourself out there and ask. The APTA and PTCAS websites offer tons of great resources and answer many frequently asked questions that potential students (like me) may have. I shared a very lengthy and detailed post on my blog that includes every last detail about my application experience in hopes to help and guide others currently in the process. It is one of the most popular posts on my blog and has helped more people than I ever dreamed it could!
You also offer recipes on your blog (those pumpkin pancakes look fantastic) and post beautiful photography. How do you make sure to find time for your other interests while balancing school and clinical experiences?
Thank you, thank you! Fall is my favorite season, so the pumpkin pancakes are near and dear to my heart! Contrary to popular belief, it IS possible to have free time and still take part in the things you love while in PT school. The initial adjustment may be tough. However, after you get into a good, consistent routine and become familiar with the demands of PT school, balancing school and personal activities is completely achievable. I usually meal prep lunch and dinner during the week to save time. However, I cook breakfast and all weekend meals fresh and aim to come up with something fun, colorful, and (most importantly) super tasty with each meal! It is a huge passion of mine and a great way to foster creativity. Photography is another huge passion of mine. I take photos of all things all of the time – food, landscapes, people, animals, and everything else you could possibly think of. If someone reaches out to me to photograph a special event, milestone in their life, or just wants new photos taken, we plan for a day and time that works out around my school schedule. I luckily have had the opportunity to photograph many PT school events and capture special moments for my faculty and peers, including white coat ceremonies, galas, APTA events, and fundraisers!
What are some of the most important things those considering a physical therapy degree should consider?
I think doing research about the programs you are applying to is so, so important! What is the location like? Does it fit your preferred learning style? Are you able to be successful in a program that is hybrid or has a large class size? What are special qualities, skills, and interests the professors and faculty have? What are the community and global initiatives of the program? What specialties will you get to see? What are the clinical experiences like? What are the costs? Overall, anyone considering a physical therapy degree should identify what they value most and hope to get out of their program and consider these things when choosing a program that will best suit them.
How can current physical therapy students make the most out of classes and clinical experiences?
I think current physical therapy students can make the most out of classes and clinical experiences in many different ways. Most importantly, I think students need to always strive to be a better version of themselves and be willing to make mistakes. Never settle. Be vulnerable. Challenge yourself every day. Once you are in school, you are working for something much bigger than yourself and your grades – you are working for all of the people that will seek your expertise one day to help better their lives and overall function. Advocate for your patients and dedicate yourself to being well-versed with current evidence-based literature. Education and application outside of the classroom is crucial and optimizing your clinical experiences will be the difference between you being an ordinary physical therapist or an extraordinary physical therapist. Your time in the clinic is limited and it really is crazy (and rather sad) how quickly it goes by. Utilize every single moment you have. Be eager to learn something new every day. Be present. Practice, practice, practice your skills. Self-reflect and keep a journal to document your experiences, what went well, what went not-so-well, and things you need to work on. Set long-term and short-term goals for yourself. Build a meaningful relationship with your clinical instructor, seek feedback from them, and ask as many questions as possible. Making the most out of your classes and clinical experiences will affect and determine the overall quality of care and knowledge that you will be able to provide for your patients one day!